Viral Transport Media, Non-inactivated Type, 82118 Series
Medium: VTM
Swab: Φ(2.2-2.5)x150mm (swab rod), approx. Φ5mm (swab head)
Transport tube: 5ml;10ml
Transport medium: 1ml/tube, 3ml/tube
Share the product
Description
VTM is specially designed for the collection, transportation and storage of virus-containing samples, such as influenza, avian influenza, and respiratory viruses. At 2-8℃, the sample can be stored and transported for a short time, and long-term storage should be at -80℃ or below.
The disposable medical sampling swab consists of a plastic rod that can be broken off at any point and a man-made fiber head.
VTM (basic model) and VTM-N (inactivated model) for selection.
Ready-to-use and easy-to-tear packagingis adopted, which is convenient and quick to avoid possible cross-contamination during use.
Supporting biological safety sample bagis adopted, convenient for placing samples and paper documents, ensuring safe and reliable transportation.
VTM
The transport medium selected by VTM is based on Hanks solution, with BSA (Bovine Serum Albumin fifth component) and HEPES and other virus stabilizing components added, so it can maintain virus activity in a wide temperature range, which is beneficial to subsequent samples, Nucleic acid extraction and virus isolation and culture.
Swab: Φ(2.2-2.5)x150mm (swab rod), approx. Φ5mm (swab head)
Transport tube: Φ16×58 (5ml), Φ16×87 (10ml)
Transportmedium: 1ml/tube, 3ml/tube
Biosafety specimen bag: 6″x9″
Packing: 50 sets/medium box, 400 sets/carton
Carton size: 43*31*38cm
The simple directions in diagrams are printed on each CITOSWABTM SERIES unit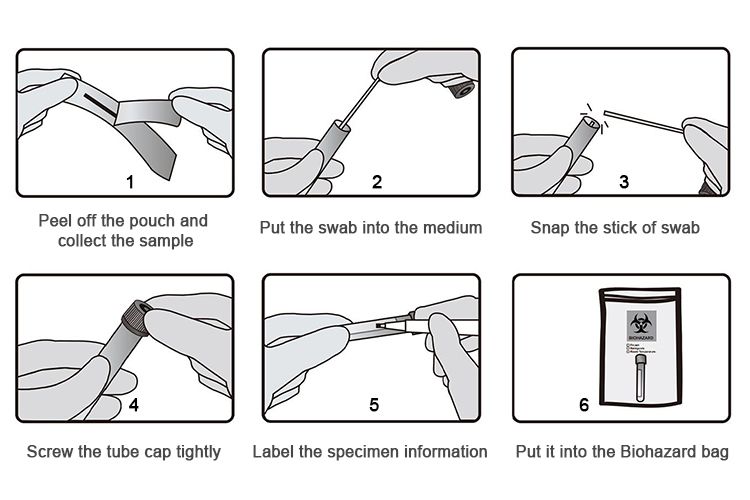 Specifications
| | |
| --- | --- |
| Product number | Product Description |
| 82118-0411 | The 10ml sample transport tube contains 3ml VTM transport medium, 1 sampling swab, and 1 biological specimen bag. |
| 82118-0412 | The 5ml sample transport tube contains 1ml VTM transport medium, 1 sampling swab, and 1 biological specimen bag. |
| 82118-0413 | The 5ml sample transport tube contains 3ml VTM transport medium, 1 sampling swab, and 1 biological specimen bag. |