The ULF and LF series of ULT Freezers independently developed by Bioevopeak have passed the measurement of safety, environmental protection and other indicators, obtained the CE certification issued by the CE certification body SGS, and successfully obtained the sales pass to enter the European Union market. This is the first step for Bioevopeak to open up the international market! This very representative certificate this time indicates that the products produced by Bioevopeak have been recognized in the market and are in line with the company's international development goals.
The CE mark is a passport for products to enter the European market. It is a conformity assessment for specific products and focuses on product safety features. It reflects the conformity assessment of the product to the requirements of public safety, health, environment and personal safety. CE is legally mandatory in the EU market.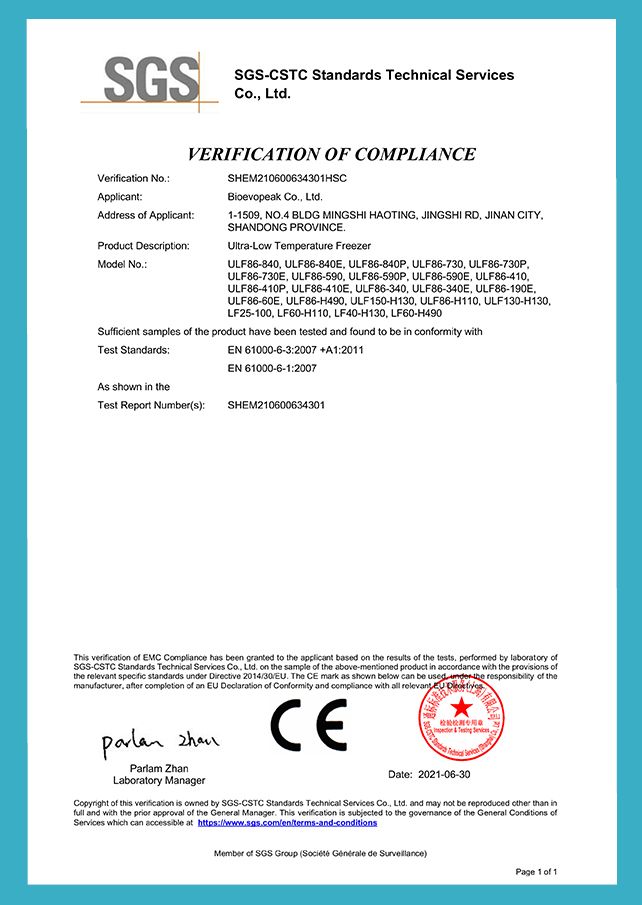 Bioevopeak has always attached great importance to the inspection and control of product quality. In order to ensure product quality, our company has established a complete set of strict quality control system throughout the process of product development, production, sales and service to ensure the quality of products and services. At the same time, Bioevopeak's products have passed the EU CE certification, and are highly recognized by customers for their high-performance, stable and reliable products. In the future, our company will continue to increase the innovation of medical devices, accelerate the pace of new product research and development, and make more positive contributions to the development of the global medical device industry!